CKD SOLUTION
What is CKD:
CKD means that the finished generator sets are completely knocked down into parts without assembling, and shipped in packages for export.
Assembly of the engines, alternators, canopies and control panel are carried out by the customer locally, whereas we will provide the appropriate assembly instructions complete with exploded diagrams.
How CKD benefit:
• Save on import duty and local tariffs
• Reduce transport cost
• Decrease facility investment & assembly expense
• Promote price competitiveness
• Expand supply scope
• Enhance assembly ability
Who could be interested in CKD(SKD) solutions:
1. Small manufactures or a factory that needs to retrofit a second-hand generators.
2. Medium and large manufacturers who require fast deliveries and/or particular combinations, as an alternative to their traditional supply channel.
3. Dealers who work in countries where the import duties of whole generators are particularly high and that assemble on site using local engines and alternators.
As you can see from the image bellow, the space that an assembled casing takes up can hold up to Three unassembled ones.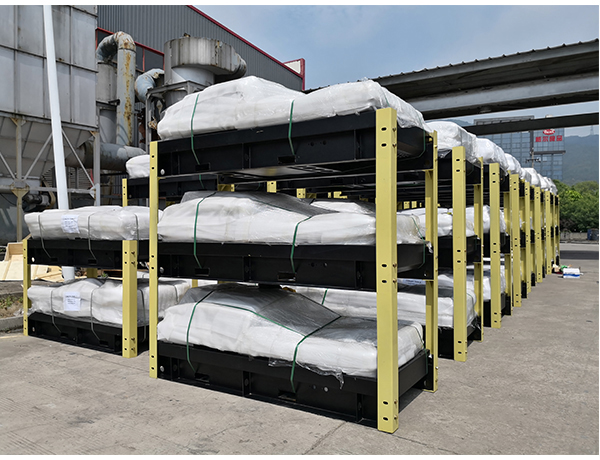 Question 1: Does your Soundproof canopy have the standard size ?

ANS: No, the size of Soundproof canopies are precisely designed and produced according to the dimensions of different engines, generators and required fuel tank capacity.
Question 2: Can the soundproof canopies be custom manufactured?

ANS: Yes,we can design and produce the canopies according to customer's requirements and preference. We have our existing DS series(Light duty type) and WS series(heavy duty type) structures for option.
Question 3: What accessories does the Soundproof canopy contain?

ANS:Generally, we provide all materials and accessories Except the engine, generator and battery.
Question 4: Can Soundproof be waterproof, is it suitable to use outdoor?

ANS:All canopies are ideal for protecting engines and generators from all weather conditions, water, fire, humidity & dust.
Question 5: Is the soundproof canopy suitable to use in areas with salt fog?

ANS: All metals of our canopies have been specially treated and covered with outdoor paint, it has a certain effect of rust prevention and corrosion resistance. The ideal way is to use Aluminum plate, Galvanized plate or Stainless Steel plate instead of carbon steel.
Question 6: How to assemble the Soundproof canopies?

ANS: Each piece is pasted with the serial number, and we will provide the appropriate assembly instructions complete with exploded diagrams.
Question 7: Can you produce according to customers' existing drawings?

ANS: Yes we can!
Question 8: How can we order?

ANS: Customers only need to tell us the engine model, generator model, controller model, color and required fuel tank capacity or there are any special requirements. The rest of the work will be finished by us.
Question 9: What is your MOQ?

ANS: 6 sets per size if need to create new drawings; 3 sets per size if the customers provided their own drawings.
Question 10: What is the lead time of an order?

ANS: For the first time order, the delivery time is 35-40 days after the order is confirmed; The delivery time of the subsequent orders will be within 25 days.
PEOPLE ALSO ASK
What is canopy generator:
Generator Canopy is the structure that enclosed your generator with a protective cover, which makes the generator secure, safe and sound proof as well. Mostly our generator is placed in a less then ideal environment; a protective generator canopy is the best way to ensure its security and safety.
What is acoustic enclosure for diesel generator set?
Acoustic generators are basically acoustic chambers which control or minimize noise that comes out of heavy equipment. These are designed well to muffle the noise to bearable decibel levels. For Soundproof acoustic enclosure, the acoustic material performs certain functions of sound absorption and insulation.